The Steve Park Story
Most know Park's story by now. In less than 18 months, the Long Island native jumped to the Busch Series from the short ovals of the Northeast modifieds. Combine his good looks and media savvy with his sudden appearance on the scene, and it's easy to assume natural talent and good luck made Steve Park what he is today. Few know, however, that Park endured long nights working on cars, eventually owning an auto repair business, and at one point went broke in a bid to attract sponsors for his modified car.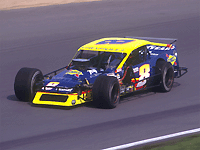 Photos © Paul Melhado
"When I was racing modifieds I set a goal of either being in or on my way to Winston Cup racing by the time I was 30," recalled the East Northport, N.Y., native. "It was close, and I guess there were times when it didn't look like I was going to make it, but it all worked out in the end."
Park's roots in racing run deep. His mother, Dotti, frequently traveled to Islip Speedway in New York to watch her boyfriend and eventual husband Bob race his modified car. A few years later their child Steve started attending races, absorbing every moment and never missing a move his father made in the pits or in the car. The elder Park, whom Steve still calls "the apple of my eye," once finished second in the modified standings to the late Richie Evans. He also worked a 40-hour job as a gear specialist for a trucking company. Racing was important, "but not more so than family or work," recalls Steve.
Steve began "playing" with go-karts at age 12 and moved to four-cylinder cars by the time he turned 16 years old. His first big break came when Bob Park's ARCA schedule forced him to miss a qualifying session at Riverhead one night. He needed someone to qualify the car and turned to his 17-year-old son Steve. It wasn't a matter of making a quick lap or two. At Riverhead, you had to race your way in the field, since they took only six of the eight cars in the qualifying race.
The young Park started at the rear of the field because crewmembers "were afraid to start me anywhere near where I could hurt someone." He proved a quick learner, grabbing the final spot much to the delight of his father, who returned in time and replaced Steve before the race.
"You could tell Dad was pleased," recalled Steve. "I think he would have been pleased no matter what, but it made me feel good that he would trust me enough to let me try to qualify his car, and it made me feel even better that we got the job done."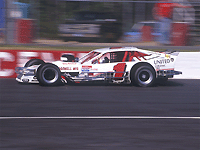 Park started racing modifieds, where he demonstrated some of that inherited talent. He won his first modified race in 1988, then earned five victories in 1989, all in his own equipment and with his own team. But Park knew that if he were to meet his goal of reaching Winston Cup by age 30 he had to do something different. So, he sold all of his modified equipment and acquired a third-hand Busch car that he and his father worked on all winter.
"We went to Daytona the following spring, where we missed the field by just one position," Park said. "It was a letdown, but it was pretty incredible that we could come that close to making the field, and looking back on it, it was good that I could spend that much time with Dad."
Steve also knew that to go far in the sport he needed sponsorship. So, at a cost of about $15,000, he and some friends filmed a video and created a brochure touting Park's talents. He sent more than 5,000 packages to potential sponsors across the nation hoping, as Park said, "that if you throw enough arrows in the air a few will land right." He received only three replies, and only one minor sponsor materialized.
"The video was awesome, maybe the best video of its kind I have ever seen, and the brochure did a good job of describing what we could do for a sponsor." Park said. "But it just didn't work like I thought it would."
Things got worse. After Daytona, father and son took the Busch car to Richmond and a few other races. But without major sponsorship, a blown engine at the New Hampshire race signaled the end of the Busch venture and some real problems for Steve.
"I was just flat out of money," said Steve. "That was definitely the low point of my career. I was out of money, and I didn't even have my modified racing to turn to because I sold all the equipment."
The Comeback
The rideless Park started going to the track to help on his Dad's car and continued working at an automotive repair shop in Connecticut. Modified owner Curt Chase noticed the younger Park hanging out in the pits and asked if he wouldn't mind driving his car. The one-race invitation led to a full-time deal with Chase Racing for the 1991 season. It didn't take long for him to return to victory lane, posting a victory at Riverhead.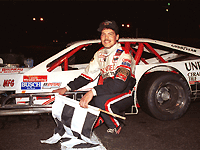 "That was an awesome feeling," Park said. "I guess some people may have doubted me, but I always knew I could do it. Those days of being out of money sure made that victory lane extra special."
After spending the 1992 season with Chase, Park moved to TG Racing, where he won four times in 1993 and 10 times in 1994. In 1995, Park posted seven victories with Sheba Racing and five victories the following year. He also competed in 11 races in the Busch North Series in 1996, visiting victory lane at Nazareth and New Hampshire.
After learning the basic ingredients of how to drive a race car in the modified series, he knew it was time to start looking elsewhere.
"The modifieds are a great place to hone your skills and find out if you have anything special for the series with the heavier race cars," Park said. "I decided it was time to see if I had something special for those series."
Going South
Winston Cup and Busch South series owners eyed Park when he started and finished 11th at Indianapolis in a NASCAR Craftsman truck race in 1996. However, his breakthrough moment came at Watkins Glen when Joe Nemechek asked the youngster to qualify his truck. Nemechek was in Bristol racing in a Winston Cup race.
With instructions to "just get the car in the field" like that night years ago at Riverhead Speedway, Park climbed into Nemecheck's truck and took off on the twisty New York road course and surprised everyone but himself by winning the pole. He turned the truck over to Nemechek for the race, but Park had taken a big step toward making a name for himself.
Car owners wooed Park to move south, and even some of the sport's biggest names took an interest. Richard Childress wanted him for his truck team, and Dale Earnhardt started eyeing the youngster.
Steve Park and "The Call"
Steve didn't believe that the voice on his answering machine one summer afternoon in 1996 was that of seven-time Winston Cup champion Dale Earnhardt. So, he ignored the message, until Earnhardt called back. After playing the message to his mother Dotti for verification, Park returned the call. That led the modified star to drive Earnhardt's Busch car and ultimately the #1 Pennzoil Monte Carlo on the Winston Cup Circuit in 1998. Here is the story in Park's own words: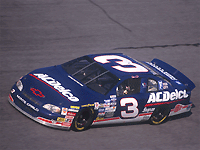 "I raced 104 races that year. I was racing about four nights a week and pretty much on the go all the time. I came home one afternoon with just enough time to change clothes, check messages and get a bite to eat before leaving that evening for another race. When I checked, there were about twenty messages on my machine, so I'm buzzing through them, taking down the important ones. In the middle of all the messages came the voice of some guy saying he was Dale Earnhardt, and he was looking for a guy by the name of Steve Park. I kinda just laughed and continued on my way. I have a lot of friends who like to play a lot of jokes, so I figured that was just somebody messing with me.
"I took all the messages and left that evening and didn't come home for about three days. When I got back to the apartment, there was another message from him. He wasn't as nice as he was the first time. I thought I might want to check this out, so I called my Mom, who is a big Dale Earnhardt fan. I didn't get to watch too many races back then because we were gone so much, so I really wasn't familiar with how his voice sounded. I was living in Connecticut at the time, so I called home to New York and asked Mom if this was really Dale Earnhardt's voice.
"I still kinda thought this was one of my friends playing a joke. I hit the play button on the answering machine and held the phone close to the machine so Mom could listen to the message. I said, 'What do you think?' and there was no answer from her. I said "Mom are you there?" and she said, "That's him...I know his voice, and that's him.' I still wasn't totally convinced. I was thinking for a minute it was him, then I thought it wasn't him. I just wasn't sure.
"He left a telephone number, so I called it, and a lady answered 'Dale Earnhardt Incorporated.' I said, 'This may sound crazy, but this is Steve Park, and there is someone who says he's Dale Earnhardt who keeps calling my apartment leaving messages that he wants to talk to me.' She said, 'Hang on one second' and put (team manager) Ty Norris on the phone. He says, 'Hey, buddy, we've been trying to get a hold of you for a while.' I almost passed out.
"Ty said Dale wanted to meet with me and asked which airport was closest to my house. Then he said, 'Let me call you back; I know that Dale wants to talk to you.' I figured if they were serious they would call me back, and sure enough they did, in 15 minutes. Ty asked if I could be at the airport at 8 a.m. the next day so Dale could send his plane for me. I was like, 'You've got to be kidding.' So, I called a friend and asked him to go with me to the airport and to pinch me if I was losing my mind. We got up the next morning and went out to the airport.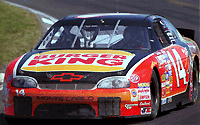 "We waited, and sure enough, Dale's plane lands, and me and my buddy pressed our noses against the glass watching it land. I said, 'I can't believe this,' and he said he couldn't either. The two pilots climbed off, and I climbed in. I was the only one in the back of the plane.
"When I got down there, Dale gave me a tour of his farm and his house. At first I thought he flew me down there because he wanted a new friend. Later he took me to his race shop and to Kannapolis and showed me around. That was really neat because not many people get to see the real Dale Earnhardt. Dale told me the chemistry just wasn't there with his Busch team and that he wanted to make a change for the 1997 season. I thought, 'Why does he want me...I'm nothing special.' I guess you could say the rest is history.
"The only bad thing about that phone call now is that I have always prided myself on having a state-of-the-art digital answering machine. But you couldn't save the message because of the computer chip. I'd love to have that answering machine message."
"One of the things Dale made me do was move down to the area and be in the shop every day," Park said. "That really helped our chemistry. We started kind of slow, but as we grew, we started to do better and better, and after the middle of the season we were pretty good."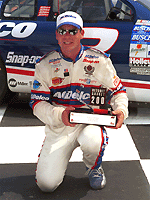 He was better than "pretty good." Park won three races, nearly finished second in the points and won the rookie of the year title. Park sparkled off the track as well, impressing at least one veteran racing observer, who saw Park as a new breed of driver, one who might take this sport to new heights on and off the track.
"Steve Park is tomorrow's race driver today," said Chris Economaki, National Speedsport News' longtime editor, who also eloquently commented on Park's off-track presence. "He's skilled at the wheel, polished in his mien and, when the sun goes down, sartorially elegant."
Moving Up Again
About midway through his rookie season in the Busch series, Park was registering wins, making a bid for the top slot in the points race and wondering about next year. Most expected the newcomer to return for another year of seasoning in the Busch series, but Earnhardt had other thoughts.
"He was just doing too well. We didn't know what else he could learn in there that he couldn't learn by moving up," said Earnhardt, who asked Park if he was ready for Winston Cup racing.
It Didn't Take Park Long to Answer
"Of course I said yes," Park recalled. "I wouldn't have done it if I didn't think I or the team was ready, but I thought I was ready, and I know they were ready," he said.
With driver in place, Pennzoil's support and the opening of a 108,000-square-foot race shop adjacent to Earnhardt's home in Mooresville, Crew Chief, Philippe Lopez, felt time was the only ingredient needed in the recipe to make Park a household name.
"He's good, and he's got the right kind of mental attitude to deal with this sport," said Lopez, who tutored both Ward Burton and Hut Stricklin.
At Winston Cup tracks all across America, Steve Park began the quest to equal the success he's enjoyed in the other divisions. In Winston Cup racing, nearly everyone owns a championship from some series. Add to that the 50 car fields, and Park surely had his work cut out for him. However, he had a little extra help from family. The Earnhardt team hired Steve's dad, Bob Park, as a gear specialist. Steve's mother, Dotti, takes care of the fan club, which started out of her home in North Carolina. The fan club grew and required moving to an office that Steve and Dotti share at Steve Park Motorsports in Mooresville.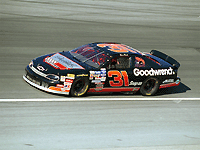 Steve's driving style might remind some NASCAR fans of his mentor Dale Earnhardt, while fans in his native Northeast claim he's similar to his race-car-driving father Bob Park. But, when the 1998 Winston Cup season started at Daytona, the #1 Pennzoil Monte Carlo driver Steve Park hoped to show fans and competitors that one day experts will compare newcomers to him.
"I think our goal in 1998 was to be a top-15 team and then move into the top 10 in points. By mid-season I hoped the Pennzoil Monte Carlo would be in the hunt with the leaders," Park said.
Battling with Kenny Irwin, Jr. for Rookie of the Year Honors took a backseat early in the season after Steve suffered a broken right femur in a severe crash during practice at Atlanta Motor Speedway. Park also suffered a broken left shoulder blade, left collarbone and two chipped front teeth. "The bottom line is something broke in the right front of the Pennzoil Monte Carlo and it made a right turn into the fourth-turn wall. It put a monkey wrench in our plans to win Rookie of the Year as well as get a lot of experience on the track, " said Park, who sat out 5 months of the 1998 season recovering. "That sure wasn't the way that I wanted to spend my rookie year."
Steve continued his learning curve in the Winston Cup Series in 1999. Looking forward to returning for his first full season, Park welcomed the addition of Andrews in May 1999 and the duo collectively scaled up the points standings - moving from 34th in points to 15th at season's end with consistent finishes.
The following year Park teamed up with Marsh Racing to run a limited Busch schedule in addition to his full-time Winston Cup schedule wit DEI.
Dreams Become Reality For Park and the Pennzoil Team
In his heart he believed he could win and he wanted to prove it not only to himself, but also to everybody else. He knew that he was capable of obtaining that elusive first victory. Steve Park did just that on August 13, 2000 when he stood atop the #1 Pennzoil Chevrolet near the finish line at Watkins Glen International, victorious after the 90-lap event. Following the win, Park continued on a rampage - posting eight top-10 finishes in the remaining 13 races on the 2000 Winston Cup schedule. Among those great finishes were four top fives, including his second-best career finish of third during the race at Phoenix. He not only performed better on the track but also accumulated another first in 2000 - his first Bud Pole Award.
After starting third for the March race in Atlanta, Park put the Pennzoil Chevrolet on the front row for the start of the Bristol event two weeks later. He would accomplish the feat again in Homestead later in the season for the Pennzoil 400 - where he set his second track qualifying record of the season. In between the two events, Park started the first Richmond event in the second spot after being bumped at the last moment and when the team revisited Bristol, sat on the second row.
Enjoying his first full season with crew chief Paul Andrews, Park followed the guidance of the veteran leader and took the Pennzoil team to a top-10 finish at the second event of the season and then followed it with a fourth-place run in Atlanta two weeks later. Although finishing just outside the top 10 in the Winston Cup point standings may have been a slight disappointment for the young team, the Pennzoil group accumulated a total of 13 top-10 marks throughout their 2000 campaign with six top 5's. The team placed 11th in the points standings at the end of the season.
Park's Second Victory in 2001
Park's Rockingham win was one of the most popular victories of the 2001 season, coming just a week after his car owner Dale Earnhardt lost his life on the final lap of the Daytona 500. Park fought off a strong challenge from Bobby Labonte in the final laps to take the checkered flag in the near-photo finish.
"Dale was more than my car owner, he was a close personal friend. I learned more than what it meant to be a Winston Cup driver from him, I learned what a friend can be. I will miss him deeply."
"That was the most incredible emotional roller coaster I've ever been on. To be able to fight back the emotions I was feeling in the last five laps and do what Dale had taught me to do and that was just to stand up on that seat and drive the hell out of that race car."
Tragedy Strikes
In September 2001, Park survived a vicious accident in the #31 Whelen Busch Series car. The accident occurred during a caution period as Park drove down the backstretch readying for the lap 20 restart. Suddenly, the car veered to the left. Before reaching the inside wall it was struck near the driver's side door by Larry Foyt, who was racing past the cars in the outside lane to take his position with other lapped cars at the front of the field. Foyt, who had nowhere to go when Park's car veered in front of him, struck the #31 car. After the collision, Park came to rest against the inside wall and remained in his car for almost 20 minutes before finally being extracted, when workers cut away the roof of his car. Steve suffered a moderate concussion, sitting out the rest of the 2001 racing season to recover, as well as the first few races of the 2002 season.
Park Returns At Darlington
After a full recovery, Steve made his come back at Darlington Raceway in March 2002 where he qualified fourth, his best qualifying effort of the season. Paul Andrews was replaced by crew chief Tony Gibson and the remainder of the season was one of highs and lows. With only two top 10-finishes and ending the season 33rd in Winston Cup points, the team regrouped over the off-season and made several personnel changes, including a new pit crew.
Fresh Start and a New Way of Life for 2003
Steve and the Pennzoil team continued to struggle beginning the 2003 season, although the team took the pole for the Auto Club 500 at California Speedway in April. That high didn't last long as Park was released from Dale Earnhardt, Inc. shortly thereafter on May 5, 2003. What may have seemed like a devasting shock was actually a blessing in disguise. Richard Childress, Dale Earnhardt's previous team owner, immediately hired Steve Park for the #30 AOL sponsored ride, which had been vacated with the firing of Jeff Green, who coincidentally took over the #1 Pennzoil car.
Steve has no hard feelings towards DEI. "I will always look back on my years of driving for DEI with much happiness," said Park. "Together the Pennzoil team and I shared many great memories of winning races and pole positions. It will always be an honor for me that I was the first Winston Cup driver for owner Dale Earnhardt.
"To have the opportunity to drive for RCR and America Online is exciting. A mentor like Richard and a change of scenery is something I'm really looking forward to. I'm lucky to have a primary sponsor like AOL with their marketing power behind me. My goal is to build consistency and to revitalize the AOL/RCR NASCAR Winston Cup program so we can finish the season on a high note."
More Changes in Store for 2004
In September 2003, it was announced that Steve would finish out the 2003 NASCAR Winston Cup season at RCR but would be released at the end of the season.
Steve joined Orleans Racing as the full-time driver of the No. 62 Dodge in the NASCAR Craftsman Truck Series for 2004, replacing Brendan Gaughan.
"It is my privilege to drive for Orleans Racing and Dodge," Park said. "I enjoy the Craftsman Truck Series. It is one of the most competitive forms of racing. This team is certainly one of the most competitive in the sport, and I look forward to challenging for the championship this year."
2005
Drove for Orleans Racing in the Craftsman Truck Series - Earning a Victory at Fontana
2006
Drove for Harris Trucking in the Craftsman Truck Series
2008
Drove for NDS Motorsports in the Camping World East Series
2009
Drove for NDS Motorsports in the Camping World East Series, earning a victory at Adirondack & winning the series Most Popular Driver Award.